There's a special kind of thought that pops into my mind quite often. You could call it a favourite thinking exercise, or a recurring fascination.
It's about those times in life when you've been right at the edge of something new, and you can see the change coming but you don't yet know how it will affect your life.
I revel in those feelings.

The photos in this post are all self portraits from when we were in Palm Springs last weekend.
Five years ago in Gothenburg David and I went to look at what would be our first apartment together. We really wanted to get it, it was big had two balconies and was close to the city centre, so when we walked from the apartment to the grocery store down the street we tried to imagine what it would be like if this was our neighbourhood.
It was still winter and the small cherry tree outside the store had yet to grow leaves on its bare branches. We stood underneath it and kissed with so much hope and anticipation in our bodies, and I remember imagining us standing at the very same place in spring, kissing beneath blooming cherry blossoms. There was also worry, that we wouldn't get the place, and that this part of town would continue to be a stranger to us and not our home.

When we finally got the call that the apartment was ours I went back to that feeling in my mind, tried to remember how the neighbourhood looked but not really knowing where the streets went and what was behind the buildings and parks.
Over the years since I've learned how the area looks, I know what is behind the grocery store (ugly apartment buildings from the 80s), I know every twist and turn of the cemetery where I like to go for walks or evening runs, I know all the cute little shops, which chef at the thai restaurant on our street that cooks the best Pad Thai, and I even recognize some strangers that pass through the neighbourhood as a part of their every day life.
And I still try to remember that feeling of not knowing how the future will look, but being sure it will change soon.
I try to see the grocery store down the street in the same way I did that day when I was filled with expectations and longing for something new, because I like that feeling so much, I want to keep it in me forever.
It's a surrender, of sorts. You know that you don't have all the information, you know things will change and that it will make your life different, so all you can do istrust and hope, and let go until you're there.
And then, when you're there, you can never truly get that feeling back because then you KNOW.

Before we came to USA we were in the same sort of unknown space. We knew we probably would be going, but we didn't know when and how it would all pan out. It was too big to even dream of, too huge to comprehend. We could just wait and see, put our lives a little bit on hold until the call came that yes, we should come to LA, in fact- could we come next week?
That period is still so fuzzy to me. Impossible to grasp. It was just a vacuum.
But then, when we came to USA at the end of March, we didn't even have a place to live and we stayed at a hotel until we could find a more permanent place.
On the day we came upon the tiny apartment we live in now I was struck by that very same feeling.
We knew the name of the street, but not the house number, so we drove down the street trying to get a feel of the area and guess where exactly our life would be lived the following months.

I think a move to a new place is a perfect example of this "knowing but not knowing" state of mind. It revolves around so much more than just the house you live in (a new job creates the same feeling of getting to know a work place as well as colleagues). It's about the surroundings too.
You can never keep that fresh naive look at a place after you've gotten to know it, so now when I walk to the grocery store fifteen minutes from our tiny home I try to capture that fleeting memory of how it was when this part of the world was completely unknown to me.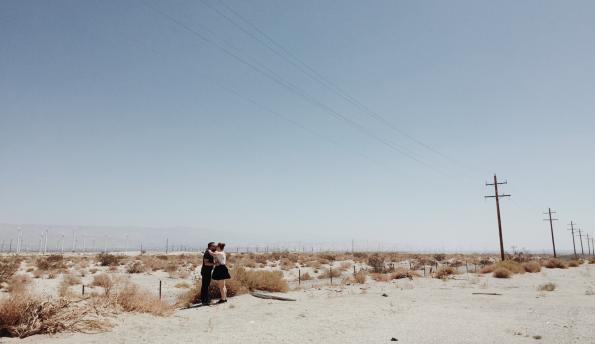 And now I'm at one of those edges all over again.
We're moving to a tiny, but not quite as tiny, home in a part of LA where we've actually been before. We have a favourite sushi place in that neighbourhood. It's close to many places where we've been; restaurants, stores, a theatre and old book stores.
But now there are also small and winding streets we will call Home for a few months. Streets behind all those spots we've visited without knowing that our future home was hiding in the hills back there.

And I can't stop thinking, what will it be like to have these streets be my streets. How will it look in a month when I've walked all over the place, mapped every corner and bump in the sidewalk?
When I look back at the day when we drove there the first time and everything looked so exciting and unknown.

When I will know.


/Lotta