Freckled redhead, actor, script writer, photographer, jewelry maker, tea drinker and popcorn enthusiast from Sweden, now living in Los Angeles.
That's the short way to describe me. At least if I get to choose myself, and since this is my site that's exactly what I'm doing.
Now for the medium length description for those of you who are a little more curious but don't have the entire day.

I'm one of those people who can't decide on one thing I'm passionate about. They all seem to mash into each other making it impossible to choose just one. So I've decided to choose them all.

I've wanted to become an actor since I was eleven and went to theatre classes after school. It became a plan sometime in highschool. I've been in lots of plays since then but up until 2015, when moving to LA, my main source of stage theatre came through the theatre group Teater Esther that I'm co-founder of. We made three productions together.

Even though I love the theatre I've become absolutely smitten with film acting. You could blame it all on my husband, David, and that would be absolutely correct. Since we became a couple in 2006 (for the third time, our story started way back in 1991) I've been in a lot of David's work. During the last few years we've made several horror shorts together. The most recognized being Lights Out, that gave us a ticket to Hollywood to turn that short into a feature film.

David and I work together on many things. Script writing, filmmaking, photo projects, dirty dishes; We make one awesome Husband and Wife team. Since spring 2015 we reside in Los Angeles, USA.

Big acting inpirations: Michael Caine (fellow redhead), the weird lady in front of me in the grocery store, Julie Delpy.
See my acting resumé
here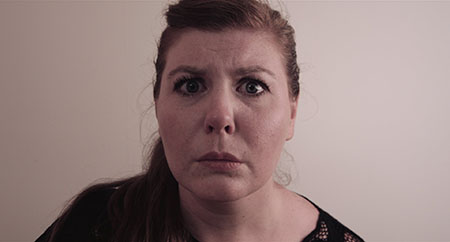 I'm a small business owner (and when I say small I mean Me. Just me. Alone. Nobody else but me). I make one of a kind jewelry pieces with no other tool than my two hands. I've made up the technique along the way and can proudly say that my work is entirely my own.

I work with copper wire and often make my pieces with only one single wire thread. I have an etsy shop we're you can see more and buy my pieces.

Big inspiratons: Fall. Leaves. Scratches on glass. Rust.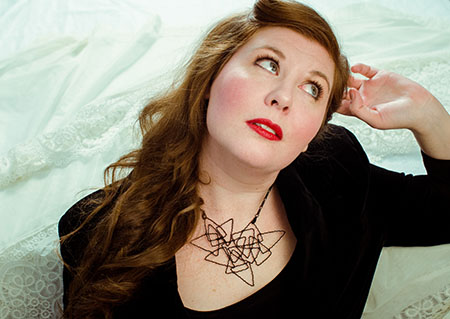 My love for photography sort of started with my jewelry business. I needed photos of my necklaces and earrings and I needed to take them myself. And models! I needed photos with models wearing my jewelry! So I forced my friends in front of the camera and realised that I loved taking the photos as much as making the jewelry pieces.

My photography work spans from product photography, editorial, everyday documentary photos and all things covered in scrathes and/or rust.

Lately I've been working a lot with Self Portraits since that combines my love for photography and acting in an oh, so wonderful way.
Big Inspirations: Rust. Scratched glass. Gregory Crewdson (because his scenes remind me of theatre and I LOVE theatre) Vivian Maier.
And now for the advanced knowledge for those of you who just can't know enough of me:

Born in 1981 in Jönköping Sweden. 1.70 meters tall (5'7"). Living in Los Angeles since 2015 together with husband, and half of the Sandberg/Losten team, David F. Sandberg.
I've studied theatre history and gender studies at Lund University, did 2 years acting school at Blekinge läns folkhögskola. I've worked in a tea shop, an icecream kiosk, I've been a cleaning lady in a fancy hotel in Midhurst, England and at a little less fancy hotel in Jönköping, Sweden. I've worked at a home for the elderly and quite a few group homes for people with different kind of physiological and neurological disorders.

I once had a rabbit named Ninen, I'm allergic to cats, dust and red wine (oh, the horror! How to be a true artist without red wine?!), I love to dance and am a good singer. I speak english with a slight European accent but can fake a standard American accent if I have to, I make the best popcorn, collect old teapots, am brilliant at scoring great vintage finds, can speak in quite a few swedish dialects and have been keeping a diary every single day since my 9th birthday (so if you want to know what weather we had on April 12th 1995, just ask).
To read more about my work click here.